According to Bankrate's latest Financial Security Index Poll, Americans who have money to set aside for the next 10 years would rather invest in real estate than any other type of investment.
Bankrate asked Americans to answer the following question:
"What is the best way to invest money you wouldn't need for 10 years or more?"
Real Estate came in as the top choice with 28% of all respondents (3% higher than last year), while cash investments – such as savings accounts and CD's – came in second with 23% (the same as last year). The chart below shows the full results: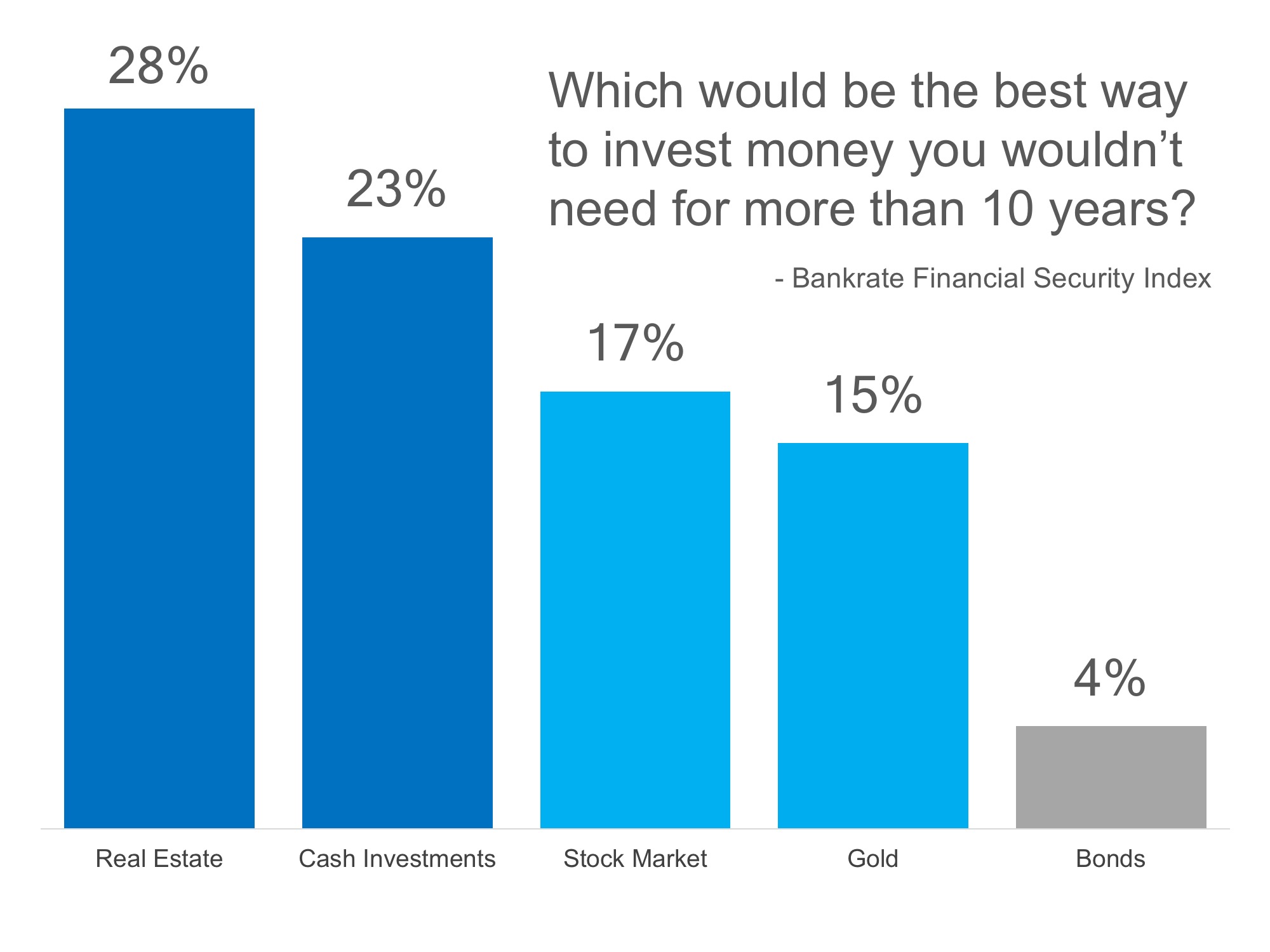 The article points out several reasons for these results:
"After bottoming out at the end of 2011 following the worst housing collapse in generations, home prices have gone gangbusters recently, climbing back above their record pre-crisis levels. Prices jumped 6.6 percent during the 12 months that ended in May, according to CoreLogic. Buying A Second Home

Toss in persistently low interest rates, tax goodies that come with owning a mortgage, and the psychological payoff from planting your roots, and maybe it's no wonder real estate remains popular."
The article also revealed that: Buying A Second Home
"Bankrate's Financial Security Index — based on survey questions about how people feel about their debt, savings, net worth, job security and overall financial situation — has hit its third-highest level since the poll's inception in December 2010." Buying A Second Home
Bottom Line
We have often written about the financial and non-financial reasons homeownership makes sense. It is nice to see that Americans still believe in homeownership as the best investment.



source: Americans Still Believe Real Estate is Best Long-Term Investment | Real Estate with Keith Kreis
---
Guide To Buying a Home – Keith Kreis
Buying a home usually represents your single biggest investment .
The home buying process is one of the most exciting, and frequently stressful, experiences you'll ever go through. This holds true whether you've bought many homes or you're looking to buy your first, whether you're in the market for a new primary residence, an investment property or that perfect 
vacation getaway. Today's real estate market can offer more opportunities, yet
 can be filled with more risks than ever before. There are a multitude of factors to consider and decisions to make when Buying A Second Home. When buying, it's crucial to have all the available resources necessary to make a well-informed decision, together with the time required to make use of them. It's important to enlist the help of a trusted real estate professional " Keith Kreis "who'll be able to provide expert guidance at each step of the buying process. Finding and Buying a home includes the following steps, which we'll examine in more detail throughout this booklet:
1.) Define your goals, research your options, make your plans
Given that buying a home is such a big step, it's very important to educate and prepare yourself as much as possible. This means clearly determining the reasons you're buying and what kind of home you're looking for. Since buying and financing. Buying A Second Home are so closely related, it also means examining your current financial situation and projecting how much you can afford. Once you've answered these questions, even tentatively, you'll be in a better position to research housing and mortgage options, and create an action plan and timelines for moving forward. Although it is possible to do this yourself, you may benefit by consulting an experienced real estate professional like myself to help guide you right from the start.
2.) Contact a real estate professional
Buying A Second Home is a complex matter with many factors to consider since no two homes or transactions are alike. Moreover, with all the unique opportunities and potential pitfalls of the current market, it's more important than ever to contact a real estate professional "Keith Kreis "decided to Buying A Second Home. When choosing a real estate professional to guide you through the property search, financing, negotiation and transaction processes, you should consider my local market knowledge, experience, and track record  in Buying A Second Home  .